Poetry Out Loud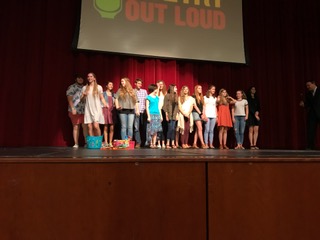 On Friday, May 5, 16 freshman competed in the first annual poetry contest Poetry Out Loud. In this competition, interested Freshman memorized a poem and then performed it in front of their peers in the PAC on Friday.
Freshman students that were interested picked out their poem from a list provided, practiced it over and over again, then perform in front of their English class. After that and even more practice, the students recited their poems in the PAC in front of friends, family, and other Freshmen.
The host, English teacher Patrick Martin, went on the explain before the students performed the hard work and dedication that went into the production. There were also guest speakers and teachers who volunteered to recite poems as well, including South Carolina's Poet Laureate Marjory Wentworth. The plethora of faculty volunteers ranged from ROTC, to the science department, to the language department, to math and so on.
Here are the first, second and third place winners and the poems they recited.
Congratulations to all of our winners and participants.
1st Place: Gillian Richard – "Personal" by Tony Hoagland
2nd Place: Kindred Moore – "The Gaff" by CK Williams
3rd Place: Maggie Rudes – "Personal" by Tony Hoagland