Steering in the Sea
Zach Carvajal zips across the water, almost floating. The spray crashes against the sails and into his face. The salt in the air is harsh, the spray crashes, and he flies across the harbor with a big grin.
He has sailed optis, a small, one person boat, highly competitively, including in Holland at an international regatta, since he was five. His father got him started. Carvajal is only a freshman, but he is one of Wando's most consistent skippers. He joined the sailing team as an eighth grader.
His coach, Ezra Zankel, has watched him develop into his role on the team.
"In the past we usually haven't had many eighth graders on the team. He tried out as an eighth grader last year, showed up to tryouts and did a really good job," Zankel said. "He was sailing faster than some of our fastest sailors at times. So it was an instant decision to say we want that guy on the team."
According to Carvajal, he has a myriad of experience — a great asset when it comes to sailing. Zankel has sailed all kinds of boats, and his diversity of knowledge provides many sailors with a veteran perspective.
"[Carvajal] takes the regattas and his growth as a sailor pretty seriously," Zankel said. "He's done some pretty intensive stuff."
Zankel finds Carvajal's team spirit and love for the sport almost contagious. According to Zankel, he has become a more complete sailor this year, making friends with his teammates and winning often.
"He's a funny guy. He gets along with just about everyone on the team. But when he needs to look at the task at hand," Zankel said. "He really does a great job of making sure that he's one hundred percent focused on winning the race."
Zankel explained that being a good teammate and being able to communicate are huge in sailing. Unlike in other sports, the sailing course changes throughout a regatta. There are wind shifts, tides and other boats to account for, and all of these moving pieces can make sailing very complex and unpredictable, much like life.
"You can take a lot of different things that happen on the race course and apply them to everyday life. You can start a race and be ahead and be looking good, but you stop concentrating for a second or a wind shift comes in the wrong way, and all of the sudden you've lost half the fleet," he said. "That happens in life too. It's great to live in the moment, but knowing where you're going next can also be a big important part of being successful at life."
"
You can take a lot of different things that happen on the race course and apply them to everyday life."
— Ezra Zankel
The life lessons sailing teaches were mirrored by Carvajal.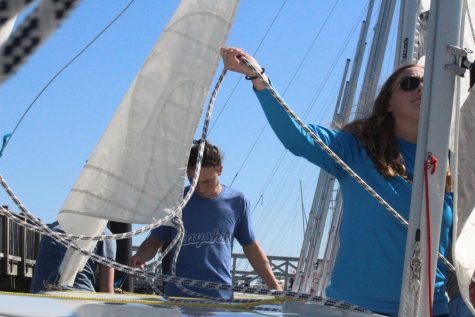 "Sailing takes being able to see and predict what problems are coming and being able to think of a solution very fast," Carvajal said. "That is a life lesson for a lot of people that sail, because it teaches you a lot about adapting."
Zankel has paired him with senior crew members throughout the season to give him more experience. Carvajal has built on his sailing this season, especially crew communication.
"[Good communication] is a lot of counting down to get in sync. It's also a lot of knowing how the other person will think," he said.
He's traveled and competed widely, finishing 15th out of 160 in an international Holland Regatta.
"I love sailing. I love competing. I love being able to control what I'm doing. It takes some luck and some skill, but skill improves your luck tremendously in the sport," Carvajal said. "[Winning] is humbling because I know that when I was very young, I lost almost every regatta that I went to. I understand what other people think. I don't try to brag about it. It's a learning experience for everything you do."