"The Bye Bye Man" was Stereotypical in Plot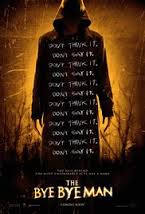 The Bye Bye Man wasn't my first choice of movie — my disappointment meter was already beginning to tick.
As someone who doesn't like horror movies, I was forced into the theatre, my fear rising. I think my anticipation was the main reason I was fearful; I mean I jumped when someone turned a light on.
Who actually does that?
The movie, like my fear, was all hype.
The movie started with the somewhat stereotypical "1960s montage of the main plot to present day" and overly stereotypical. Essentially, three college kids buy a house, house turns out to be haunted, and everyone ends up going insane.
The movie is titled The Bye Bye Man, however the actual Bye Bye Man seemed very irrelevant throughout the movie. The movie focused on the characters trying to escape The Bye Bye Man that was inside their heads rather than the physical being.
Instead of watching an enjoyable movie that left me on the edge of my seat, I watched as college students went crazy and killed each other. This movie was predictable with no suspense that left a scaredy-cat of a person bored to death (no pun intended).
All in all, if you walk up to a movie theatre and see this option on a marquee. Say "Bye!" to The Bye Bye Man.