Running through life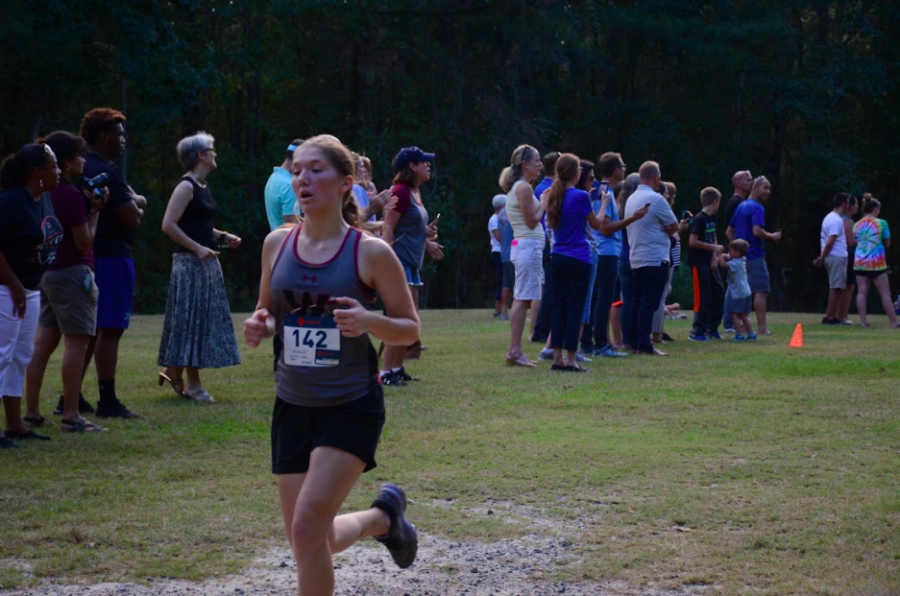 Laura Ciccarelli, Staff Writer
October 24, 2018
21:33
A week ago, this number meant nothing to me. Now when I hear it, pride blossoms inside my chest and a shy smile creeps onto my face.
21:33 is my 5k personal record. It is the time that I endured three seasons of track workouts for.
It is the time that I practiced for two hours after school four days a week to achieve.
It is the time that I suppressed my nausea on the start line of every meet to earn.
There are plenty of girls who have run faster times, but 21:33 is my record.
When I joined the Wando Cross Country team at the start of my sophomore year, I didn't want to compete. Running was supposed to be an outlet, a fun extracurricular, something different. I didn't realize when I started how much it would impact me. Running isn't a pastime, it's a lifestyle.
This became concrete when I ran my first varsity meet during junior year. It was only one race, and I finished dead last for our team. Nevertheless, when I accepted my varsity letter, my heart swelled with pride. I ended that season with a personal record of 22 minutes. Little did I know this number would haunt me for the first two months of my senior year.
Twenty-two minutes became an unconquerable obstacle. My times danced right in front of it. Finally, I was clocked at 22:01. All I needed to do was breath a little bit faster to break my record. All it would take was one second.
Region rolled around and I was determined. My coach helped me set my mile splits. 6:40, 13:50, sub-22:00 — I drilled the times in my head. My body buzzed with nerves as I approached the line. Shallow breathing, sweaty palms, all the classic symptoms. No matter how many times I've raced, the feeling of impending doom always surfaces right before the gun goes off.
But before I knew it, we were off.
I was moving quickly and a little voice in my head screamed at me to pace myself, but I brushed it aside. I needed to push myself. Soon I was scooting into the first mile, five seconds early. "Don't get too eager" I reminded myself, "you have two miles to go," but I couldn't suppress the excitement that bubbled up inside me. I used it as fuel.
Seven minutes later, the second mile came into view, and I was still under my goal time. I could feel my strength waning, but my eyes stayed peeled for landmarks to give me motivation.
With only half a mile to go, one of my teammates pulled ahead of me, and I knew it was time to pick it up. I stayed on her heels. The curve to the finish loomed ahead and a smattering of people started to line the course. I could hear the shouts of parents, siblings and teammates as we rounded a lake.
Six hundred meters, 400 meters, 200 meters — I broke out from the trees. This was it, the final stretch. I dashed through the finish line listening for my time. The announcer called out 21 and my heart leaped. As volunteers guided me through the shoot, I was overwhelmed by a range of sensations, breathlessness, fatigue and above all complete euphoria.
21:33
I did it.