A busload of problems
The sun is barely out for the day, and the wind chills of early morning whip around the students as the wait at their bus stop at 7:50 a.m. They wait. Its 8:05. And wait some more. 8:20.
They can feel the weight of their backpacks pull down on their shoulders, thinking about the instruction they will miss in first period. They recieve a Remind text saying their bus is going to be arriving late — as if they did not already know waiting outside.
"Route 254 will be split until further notice. Please expect 15-20 minute delays."
Calls are frantically made to working parents of those who cannot afford to be late or completely miss first period again. Finally, at the start of school — 8:30 a.m. — the familiar Durham bus rolls up to the stop to let the remaining kids on. Alas, they are late for school, trying to catch up academically on what can be a daily basis.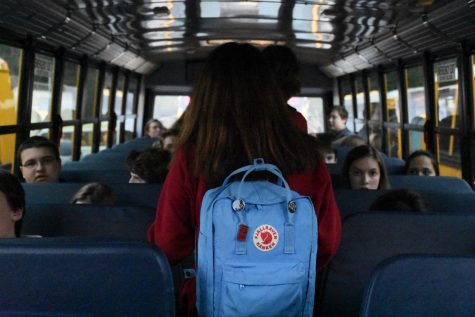 A concerned teacher whispers to a student in the hall. "Why were you not in class today?"
With a sigh and muted response, the student replies with the simple phrase "The bus, again."
Junior Dominik Zelek experiences this situation all too often, as he frequently misses parts of his first period due to the lack of certainty in the buses.
"At first, it was stressful because I never knew if I was going to get to school on time, but then after so many days, it feels normal now," Zelek said. "It's a little stressful when I have to sit there and make sure I don't miss it."
It has reached the point that when students have an summative assessment first period, they sometimes find other rides to school because they worry about the bus bringing them late, Wando parent Jennifer Mann said.
According to Mann, the bus problems with her particular route started in the beginning of Dec. 2018, let alone the 4 out of the 34 other bus routes that are without drivers.
The buses provided by the county and Durham never leave students completely, though. Despite an uncovered route or late bus, if there are still students waiting that the school is made aware of, a bus will be sent to pick up the students, administrator Todd Kaplan said.
Not only are some Wando students like Zelek and Mann's children experiencing bus issues before school, after school they wait even more. When a bus is not available or there is a lack of bus drivers hired to cover routes, kids have to wait near the cafeteria until they can find another ride home or wait from 20-40 minutes until another bus loops back for them.
At around 3:40 p.m. everyday, Kaplan, who acts as a messenger from Durham to the school, speaks on the intercom to explain the changes to the bus routes. Kids riding to Churchill Park will not be riding 255, they will be riding with Greymarsh. Bus 204 will be waiting after school until the next available bus. And the list of changes continues.
Kaplan receives an email the afternoon, only giving a little window of time before the buses go to their routes, from the site supervisor at Durham that lets him now all the changes for that particular afternoon.
"The way in which we are typically receives information, at least in theory the way it is supposed to happen, is two-fold, really. One is through the Remind 101 app that Durham operates that sends out to students, parents, as well as to me," Kaplan said. "I will be completely honest — not blaming anyone for this — but I will be completely transparent. This app and those messages… has been less than efficient."
"
I will be completely transparent. This app and those messages… has been less than efficient.
— Todd Kaplan
A normal occurence of a route not being covered in the afternoon occured Feb. 20. A group of 10 or so freshman were moved into the dimmed, empty cafeteria from the cold, rainy sidewalks after the buses left the campus. They were told they have to wait for 30 minutes for another bus to come to get them. They scrolled endlessly through their phones in the dark, quiet room, checking over and over again if a parent or sibling can come pick them up. After seven minutes, they are left unsupervised by admin, continuing to wait for a bus to come.
Not only are students waiting for buses after school, but about five or so each from a route that is not covered that day are selected to "consolidate" on other buses, making this process of rerouting buses and students in the afternoon not so clear cut, Kaplan said.
Mann, who just recently moved her and her two Wando students from New Jersey, has experienced increased troubles with the buses this year. The worst of which being an afternoon where her children were misdirected to a bus that refused to change their route. The kids were dropped off in an unfamiliar location and had to walk the remaining distance home.
"Whether my kids got on the wrong bus is irrelevant. The situation should have never occurred," Mann said. "There should have been their normal bus there to pick them up."
Regardless if Mann's kids were misinformed and got on the wrong bus, there is still a tornado of confusion and lack of smooth communication from Durham and the school to the kids and the parents, Mann said.
"We had no problem with [the buses in] New Jersey," Mann said. "In New Jersey, there was a bus. It picked them up. It dropped them off. We never had any issues… And the funny thing is: it was run by Durham."
Mann receives these Remind texts at her work regularly and remain conflicted about if she should leave work early for the third time in one week, have her kids walk off campus to their house or wait another 40 minutes at school for the next available bus.
However, according to Kaplan, Wando is not at so much liberty to change or help these problems. Durham and the County have total control to make the decisions regarding bus reform and communication to and from Wando. Despite multiple press inquiries and scheduled interviews, PR from Durham and the county refused to make a comment or missed said interviews.
"The biggest problem that Durham has is recruiting drivers," Kaplan said. "And that's really where the crux of this issue lies… They can only do so much with the driver shortage, and we can't necessarily snap our fingers and fix that problem."
The structure of the job, the special CDL license and training required, less than full time work and odd hours makes it increasingly challenging for Durham to hire drivers. When Durham has other drivers cover a route that is lacking a driver or bus, typically the new driver has limited knowledge of the "intricacies" of that particular route, Kaplan said.
"All but pretty much one of [the buses] we are able to consolidate or split up," Kaplan said. "So they don't necessarily become much of an issue. In fact, as of yesterday, I have been ceasing to make these announcements because we are at a point where a lot of it is just redundant."
With little word from the bus company and the county, parents, like Mann, are left wondering — is this a deliberate effort made by the company to save money by not hiring the necessary drivers, Mann asked?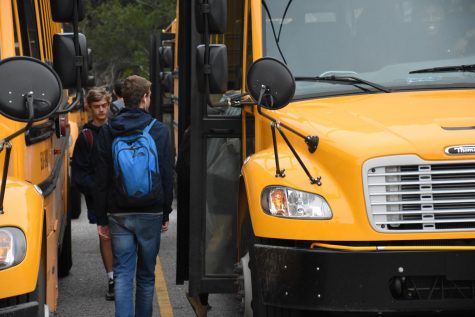 Kevin Hollinshead, board member of the county with focus on transportation, notes efforts made by the county with Durham to fix the driver problem at its source — wages. The limited and odd-hours of the shifts make the $15/hour wage and lack of benefits unappealing to prospective drivers.
"It's not a Charleston problem," Hollinshead said. "It's a state-wide — it's a national problem."
The county has assumed some responsibility of their own, he said, in their efforts to hire drivers themselves instead of going directly through Durham, however they are still ending up short.
The drivers are receiving the training and certifications to drive buses to then work for bus companies like CARTA who will pay the drivers close to $20/hour with health benefits as well, according to Hollinshead.
"The salary issue is going to be critical to solve," Hollinshead said. "In order to fill that void."
The county and Durham are in negotiations to discuss changes in wages to their drivers and who would assume responsibility of the wage increase in their contract, as well as the splitting up of the country into two bus districts. Hollinshead figures the negotiations to end and a decision to be made in June to prepare for the next school year.
Kaplan wishes to see a fix internally with Durham in the way they hire, as there is an almost daily occurrence of drivers coming to work late or not at all and a lack of them to hire. As well as, increased communication from Durham to parents and students.
"I've called Wando on various occasions, and I've gotten their standard patented answer," Mann said. "There is a link at the bottom of our page. Fill out the form to file a complaint… I've filled it out once or twice… I haven't seen any improvements."
Wando, itself, according to Kaplan, has little authority in the matters of the buses, and Wando has done what it can to "put out these fires," in reference to the bus problems and changes. Wando acts as a messenger between Durham and families, which Kaplan states the role is to bring concerns of families to the bus companies to show Wando's acknowledgement of these concerns.
"This is very disheartening, alarming that there is a lack of control by the school — by Wando. Wando needs to get involved," Mann said. "They can't just sit on their hands… Unless they are complaining along with the parents… I have little faith in anything improving."
The route of progress seems to pointing towards June, with the problem being fixed by next school year of 2019-2020.
"We are going to do our best to resolve this for the citizens as fast as possible," Hollinshead said.