'CrasH Talk' by Schoolboy Q exceeds all of his previous albums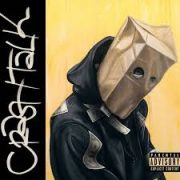 It's been awhile, Schoolboy Q has finally dropped a new album, CrasH Talk. Schoolboy Q, also known a Q, was huge in 2014 after the drop of his album Oxymoron in 2014, between now and then he has been featured on many songs and dropped an "okay" album in 2016 but CrasH Talk is different. CrasH Talk is Qs return to greatness, this is the return that many rap fans have been waiting for. From the song "Black Folk" to songs like "numb numb juice," the album features a great mix of slow and fast beat songs, which is a nice change from Q's normal fast-paced beat.
In the song "Floating," one of the faster songs in the album, Q along with the featured 21 Savage sing about a state of floating. Knowing anything about rap, you can quickly decipher that these two are discussing a state of high every time they refer to floating, and they talk about floating a lot. Besides the theme of being high, Q bounces around many different topics such as having a house and a condo, getting off the block and not trying to "wife" someone. Despite the unclear topic, other than drugs, Q manages to make "Floating" an incredibly easy and likable song.
Another song, "Dangerous," has to be one of my favorite songs in the album. "Dangerous" features Kid Cudi, that's right Kid Cudi, and takes the flow of a classic Cudi song; when you mix that flow with Q, you get a heck of a song. The song talks about the intoxicated life of a rapper. This song is one where the lyrics really don't mean too much, it's more about the vibe of the song.
"CrasH," the albums name sake, takes on a slow but incredibly appealing beat. The song also takes on a deeper meaning with its lyrics, talking about Qs life struggles and successes. Q brings up his need to succeed for his family and his life of crime that was wrapped up along with it. Q then moves on to speaking to the young rappers, trying to offer advise that he had accumulated on his path to success.
CrasH Talk was one of the greatest albums that Q has ever created, which is reason enough to listen to it. More, though, the music in the album is incredible and features some of the best rappers in the game. I highly recommend listening to CrasH Talk even if your appeal to rap is minimal.