Holocaust Survivor Regales Tales of Childhood Horror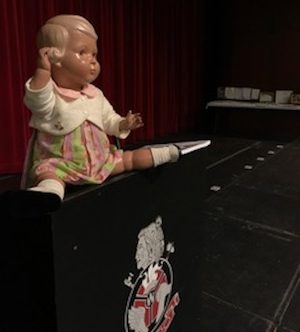 The PAC was packed.
Holocaust survivor Diny K. Adkins came to Wando and spoke about her childhood as a Jew in the Holocaust during World War II.
Diny Adkins was born in Holland in 1938 and as a four year old Jew, was captured by Germans, abused, and mistreated throughout the war and in two concentration camps.
"Here I was: four years old. Alone. And going by myself from place to place. I wanted to survive. I lived in the woods and other odd places. I found myself hiding in different towns and different people's homes," Adkins said.
Adkins' speech along with the movie that they played lasted for the duration of fourth block. The audience was completely silent as they listened to the woman tell the tales of her tragic past.
There were tables on either side of the stage, displaying Adkins' numerous certificates, letters, photographs and memorabilia from her times as a child in Holland and her times afterward speaking at various high schools in the lowcountry.
Adkins left wanting people to know that there is so much more to life than war.
"I don't want you to feel sorry for me. But my heart tells me that I need to tell you this because it's history. I have to because I don't want all of you to experience a war being so very scared and afraid," Adkins said. "Hunger, killing, hatred and pain. There is still hatred and prejudice. We as people have to see that those wars never happen again," she said.