I Got 99 Problems, But a Laugh Ain't One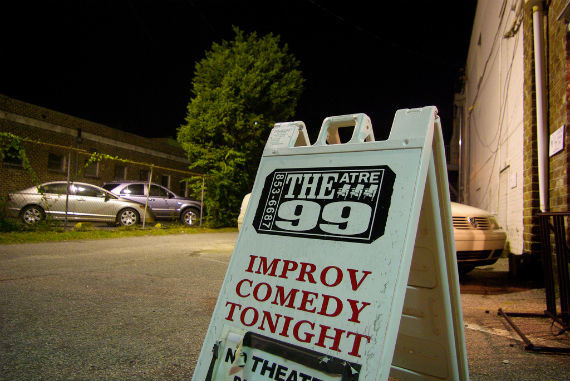 I turned 18 this year.
18.
I am a legal adult. Naturally with that comes voting privileges, the ability to buy cheap cigarettes and a great, heaping plate of responsibility.
And with that comes the certain denial of said responsibility. Trust me, the first time I've denied a plate of anything, ever.
Which is why, on said day of birth, instead of partying as is custom, I spent my day at Wando getting my schedule. No, that doesn't exactly scream "fight the man," but it was what needed to be done.
So in order to fulfill my self-prescribed destiny of rebellion, that night, a few of my friends took me to Theatre 99.
Now if you haven't seen or heard of Theatre 99, I strongly, strongly recommend a trip Downtown. This hole-in-the-wall theatre is located conveniently (if your bike broke down or something of the sort) above a — yes, you guessed it — bike shop.
The mellow, chill vibes of the place discourage any fear or uncertainty when it comes to looking like a complete moron laughing your — *ahem* — butts off at the comedy show to come.
Now, ask any of my friends — I am a awkward moment-aholic. Meaning, I detest and quite literally cannot stay in the room in the case of an arising awkward situation.
Which really doesn't bode well for me, as anyone can attest, to my diagnosis of foot-in-mouth-syndrome.
You must know, however, that the practical definition of an awkward situation is a comedy show that isn't funny. The silence. The sweat on the comedian's face. The dread in their eyes. The fear in my own.
No. Just no.
It's for this reason that I was skeptical, downright terrified, of going to Theatre 99 that night. But hey, this was my rebellion and I was going to follow through with it even if it killed me.
And it almost did.
My abs, that is.
That was probably the most working out I've done since I quit soccer the summer before my freshman year (sad, I know).
With a lively performance on the part of the comedians and interactive participation from the audience, this show was honestly fantastic. By the time the end of the act came around, I was ready to get out my digital camera and notebook and ask for an autograph.
These performers displayed enviable talent when it came to improv comedy. The most ridiculous situations and challenges were thrown at them and they somehow had to make it not only understandable, but funny as well.
So to you doctors, lawyers, moms, dads, students, and people in general who need a good laugh — I am personally prescribing you this show. Costs range from five to 12 dollars.
Go.
Hopefully, unless you are quite obtuse, you won't regret it.
-Ryan
__________
Of all the fun, adventurous things to do in downtown Charleston, Theatre 99 has definitely earned a spot in my top five. Until this past Saturday, I was a Theatre 99 newbie. I didn't really grasp the concept and wasn't terribly interested in attending. My friend convinced me to go, and I can't thank him enough for introducing me to the hilarity hotspot of Charleston.
First benefit: low cost entertainment. Tickets were only twelve dollars a piece and could be easily purchased on the Theatre 99 website. I do recommend getting tickets online about a day before — the show was sold out when we arrived. The website recommended arriving about thirty minutes earlier than the 8PM showing. When I go again, I plan on arriving even before that. There is no onsite parking, so do your research to find a garage or public parking place.  My friend and I showed up about 7:40 and snagged the last couple seats available in the back row. Since the theatre isn't massive, we still could see and hear perfectly fine.
The show itself was put on by six comedians with no written scripts whatsoever. They played several improv games over the course of two acts. One of my favorite aspects was the level of audience interaction that the actors used. Almost all the skits required the audience to shout out ideas to inspire the actors. One game even had the comedians take audience members phones. The actors were only allowed to read their chosen phones text messages as their lines while another actor facilitated the scene. This brought about some hilarious lines that had the crowd rolling.
Theatre 99 is an absolute scream. I laughed more over the course of a couple hours than I had all week. However, if you aren't the type of person that appreciates profanity or vulgar humor, it definitely isn't for you. The show leaves no dirty joke untold and no cuss word unsaid. The show also attracts an older crowd (eg. people over 21 that enjoy consuming alcohol in copious amounts before and during the show). There is an in-house bar, so brace yourself to deal with intoxicated adults all around you.
Overall, the low cost, location, and high quality performance earn high praise from me. Steer clear if you don't like long walks back to your car or profane humor. Otherwise, Theatre 99 is a must see for anyone looking for a laugh.
-Kat