Meet the Whovians of Wando
Meet the winners of Wando's annual wall decorating contest — the Whovians of Wando
Walking into the Freshman Academy, I immediately notice a silver dragon sticking out from the wall. Each scene on the wall takes place in different time periods and I get a sense of how hard the club that put this together must have worked.
Although I have never seen an episode of "Doctor Who" in my life, this club's wall is one of the ones that I remember compared to the others — the Whovians of Wando.
World Geography teacher Christa Simpson knew that this would be the club for her when she began having discussions with one of her students in class, junior Colby Tierney.
"I started watching the show and then Colby was my student and he found out that I liked "Doctor Who" and he did too," Simpson said. "And then we ended up talking Doctor Who in class. Any chance that we got, we would talk about Doctor Who."
Although the idea of the club forming came up, Simpson was in charge of Wando's Photography Club at the time. She knew that she would finish off the year strong with the club and then that next year would switch to running the Whovians of Wando club with Tierney at her side as president.
When it came time for the club's first meeting, not a lot of people showed up due to it being during lunch. However, this did not make Simpson and Tierney throw away everything that they hoped for when creating the club. Instead, they decided to move it to Friday mornings and hoped that doing so would make the number of members grow.
"We met at lunch first so it was kind of awkward because I was the only one in there but during the other lunch periods there were people," Tierney said. "That made us decide to move it to Fridays [in the morning]."
"It was a small group of us and we kind of just went down a radical of talking about Doctor Who," Simpson said. "It was pretty cool."
Unlike a majority of Wando's clubs, the Whovians sometimes will do activities outside of Wando. Back in October, the club had a get together at a club member's house for the premiere of the show's latest season.
"There was a yearlong break of Doctor Who episodes, as they have a new doctor now who is a female. We all had an event at the Kranmer twins house and we watched the first episode together. It was about seven or eight of us," Simpson said. "We had all of these Doctor Who themed foods and it was really cool to watch that episode with the new doctor together."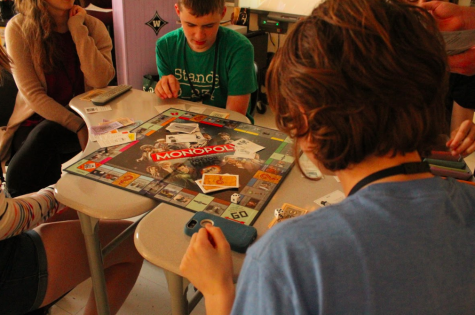 After that, months flew by and eventually it was time for Wando's annual wall decorating contest. The year before, the Whovians had received second place for their wall design but were determined to win first this time around.
"This year we stepped up our game and made some delicious treats for the judges," Simpson said. "My husband actually made them. Since there are characters in Doctor Who, he made cupcakes and he put Oreo cookies in them to make them [the characters] and it was delicious."
"It [decorating] was really stressful because we didn't have that many people working on it," Tierney said. "We had to put in a lot of hours."
Since there are five different doctors and they travel through time, the Whovians decided that they wanted to stick with a theme of time travelling. They displayed important events in history that were mentioned in the show, including Pompeii, the Orient Express and World War II. The Whovians displayed a future time with an alien prisoner as well.
"A lot of what Doctor Who is about is there are obviously horrible things that happened in history," Simpson said. "But you can't change certain things because it has to be this way."
The day of the pep rally, Simpson walks into the gym for the freshmen and sophomore pep rally wondering what would happen after all of the club's hard work and winning second place the year before. When it came time, the judges were finally ready to announce who had won.
As luck would have it, the Whovians received first place for their wall design.
"I was so excited and I felt really bad because we found out in the freshmen and sophomore pep rally," Simpson said. "But most of the club members were at the second one so word spread rather quickly so I felt bad because I was the only one in there to get the recognition."
Typical club meetings consist of sitting in Simpson's room and watching an episode of Doctor Who. Discussions of that episode will sometimes take place along with trivia matches between members. The Whovians meet every Friday at 7:30 a.m. in Simpson's room, E-216.
And just to show how laid back the club is, all that is required of future members is that they love Doctor Who.