Ping Pong Club provides a platform for meeting new people
For years, ping pong has been a beloved game to play with friends with its competitive but fun and encouraging environment.
Two years ago, AP Chemistry teacher Jason Sox knew that he wanted to incorporate this activity into Wando with the help of fellow students in his class.
"I had some students that wanted to play some ping pong [and I would] teach a lesson," Sox said. "[After that] we would push our desks together and a kid brought in a stretch net that went across some of the desks and so from there it became our classroom hobby when we had a few minutes of free time. It sort of grew as more kids learned about it and we started the official club the next year."
This is the club's second official year with senior Andrew Nguyen as its current president.
"[My favorite part of the club] is meeting new people and facing new people because sometimes competing against the same people can be boring," Nguyen said.
"
"[My favorite part of the club] is meeting new people and facing new people""
— Andrew Nguyen
"For me it's an opportunity to share this with a lot of students," Sox said. "I don't do a ton other than just sitting back and watching kids have fun which is a win-win for me."
Most club meetings consist of time to practice where players can improve and develop their skills. However to add some competition to the club, players participate in a tournament every month.
"Every month we have a tournament which a basically a single elimination bracket," Nguyen said. "People show up and get to play and the winner gets to take a picture with the trophy."
"We have a trophy for the tournament winners," Sox said. "[Winners] get their picture taken and post it to the Instagram account."
The club would eventually like to be able to compete in tournaments against other schools.
"There is some small talk about having a competition with Academic Magnet or one of the other schools that have a ping pong club," Sox said. "We're not there yet but right now sort of staying internally within Wando. We've got plenty of kids that keep us busy here."
The club now meets on the second floor of the CAS every Thursday at 7:45. If you lack experience in ping pong, that is A-okay. Joining the club does not require any background in the activity.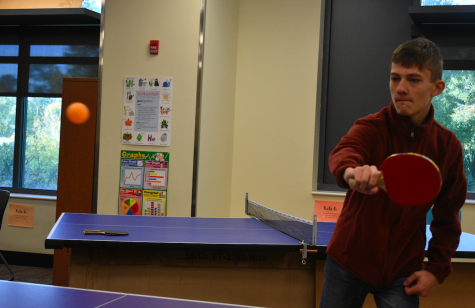 "We will go through the rules with you if you don't know so really if you just are interested in meeting some nice people that will help you that's what we're here for," Sox said.
"It's very chill and laid back," Nguyen said. "We're willing to accept anyone of all skill levels so don't be intimidated if you're new to the game. We'd love to have you."