'Sabrina' season 2 is a perfect follow up from season 1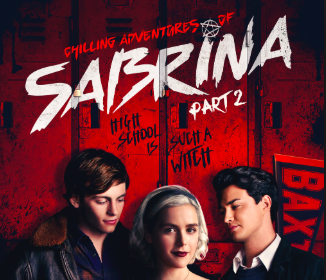 After the first season of Chilling Adventures of Sabrina became a hit back in late October 2018, Netflix renewed the show for a second season, which was released April 5.
I was very excited since I enjoyed last season and was pleased with the new twist director Roberto Aguirre-Sacasa took with the modern day Sabrina Spellman.
Throughout the first season, Sabrina (portrayed by Kiernan Shipka) constantly refuses to sign the Book of the Beast (aka the book that all witches and warlocks must sign in order to prove their loyalty to the Dark Lord and the Church of Night), which causes lots of tension between her and her aunts along with the rest of the people in the church. In the finale, Sabrina has to make a choice between signing the book or not because she can either keep resisting the church or all of the mortals in Greendale will die.
So of course, Sabrina Spellman saves the day and signs the book.
Officially being part of the Church of Night makes something go off in Sabrina, and the first season ends with Sabrina walking with the Weird Sisters with her new bleached blonde hair and a dress just like theirs, which is definitely something she would never do.
And with this new look comes the new confidence Sabrina has in season two.
After signing the Book of the Beast, Sabina's powers get stronger as well. She discovers throughout the new season more and more things that she is capable of. Not only that, but Sabrina also tries to run for Top Boy at the academy for witches and warlocks, something only a male has done in the past. Even though she gets a ton of backlash, Sabrina does not give up whatsoever. That just comes to show how much her confidence has grown since the last season.
However, something that I found very important about the season was that even though so much of Sabrina is changing, she still manages to keep one important quality-that she would do ANYTHING for her friends, family and even strangers. Sabrina would put anyone before herself in a heartbeat, so kudos to Aguirre-Sacasa for keeping that quality with her.
Like I said in my review on season one, Harvey Kinkle (portrayed by Ross Lynch) has always had a special place in my heart ever since I watched the original Sabrina the Teenage Witch as a youngster. After season two, I can now say that Nick Scratch (portrayed by Gavin Leatherwood) is also included in that. Leatherwood does an excellent job of portraying the new bad boy who steals Sabrina's heart and was even able to steal mine.
Something that really struck out to me about the new season was Susie's character development. In the first episode. Susie (portrayed by Lachlan Watson) tries out for the boys' basketball team despite all of the judgment she receives for it.
During tryouts, Sabrina comes to watch her and helps Susie make every shot. After tryouts, Susie announces that she would rather be a he to Harvey as well as to their friend Rosalind. I was very pleased with Watson's acting as it shows the struggles faced by those who feel better as a he than a she and vice versa. Even though it is something very relevant to today's society, television does not cover the topic of being transgender enough, and I was glad Aguirre-Sacasa decided to cover this in the new season.
If you want to witness love triangles, constantly worrying about your favorite characters possibly dying and, well, Gavin Leatherwood, I would definitely recommend season two.
And if you are like me, it will make you wish you were a witch or warlock and not be allergic to cats even more.