The man of many talents
Zhane Chinn is a jock. But he also is a scholar. He is the life of the party, but he has strong morals. He's a sophomore. But he plans on changing the world.
He is nothing like one would think at first glance.
Breaking the stereotype, he uses both sports and academics to further himself to his greatest potential.
It all started with martial arts.
"When I was 11, my dad said I needed to take a martial art to branch out, so I started Brazilian Jiu Jitsu," Chinn said.
He was reluctant at first, but after a couple of weeks he began to develop a passion for it. Now, five years later, Chinn has an undefeated record and devotes almost every single day to some sort of training.
Even though he is about to become a blue belt, he still manages to do track and wrestling for Wando at the same time.
"I wouldn't say it's hard — just difficult at first, and time management is key while in school," Chinn said. "You learn and it becomes second nature, but all nighters are just something you have to do sometimes."
His philosophy is that if you love something, you should do all you can to enjoy it. And he loves learning. He takes AP and honors classes. He competed in the Poetry OutLoud competition representing the school in January.
Sports are something his family has always been a part of, and he believed he needed to carry on the tradition of a certain one — football. So last year he played that sport as well, but by doing all his other sports and academics, he lost the passion he initially had for it, and decided to only carry on with the other three.
"I just didn't see the motivation and passion with the other players as I see with people in other sports," he said, "and I wanted to be in an environment that takes what they do seriously."
Training is a way for him to relax and put his mind on something other than deadlines. A way to lose himself for a couple hours a day and get rid of the stress inside of him.
But Chinn doesn't plan on pursuing high school sports in college — he is more interested in science and engineering. While he loves being active and wants to become a sensei [jitsu instructor] eventually, he plans on choosing a major that will help him excel more in life. He is doing all he needs to to make that happen.
"I'm taking the classes I need to get where I want to be, such as pre-calculus and chemistry," Chinn said. "I don't want to sound braggy, but I enjoy those subjects and I know I can do well in a career with them. It'll be good for me."
Sometimes, Chinn said, he feels apart from other students.
"If all my time is all kept up with sports and academics my social life must be lacking," Chinn jokes. If he wants to succeed, he has to stay focused, so Chinn refuses to drink or smoke, knowing that it will only set him back.
Yet he does have close friends that help him stay grounded and safe from the possible harm bad decisions would cause.
One of those friends, sophomore Holden Moore, said, "Throughout the time I've known him, he's helped me through so much. He is genuinely one of the best people I've ever met. I can't think of someone with any greater or stronger morals."
So why does all of this matter to Chinn? It's a simple answer.
"My parents want me to do better than them, and I have ideas that I want to see through for myself," he said. "I do what I do for me and my future, and I thank them for that."
Chinn's parents — Myron Chinn and Christy Stevens — only had words of kindness and optimism when asked how they felt of his accomplishments.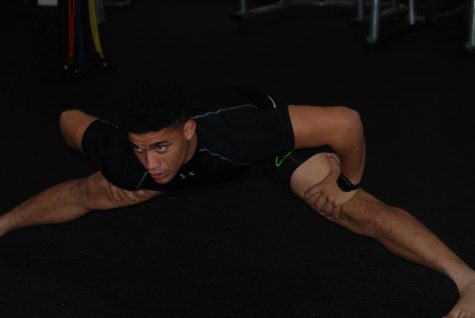 "Zhane remains humble, thankful and blessed, realizing he can not achieve greatness without grace and help along the way. We pray the trend will not end. However as the run rises, so will life's surprises," Mr. Chinn said. "We want him to continue to write the next chapter in his life, and if things aren't going well, then he can change the script."
His entire family is important to Chinn, but he considers his dad, the man who drives him to and from every practice and shares his passion, his biggest motivation. Chinn calls him his "spotter" in life — if he's doubting himself, his father is always there to guide him.
Though he doesn't think he understands how much it means to him.
"He says I won't appreciate it, until I'm 30 but what he doesn't know is that I already do," he said. "I can already see the impact it's had. I'll never be able to thank him or my mom enough."
That feeling of reassurance is what he wants his peers to have as well — he believes that anyone can find something they're passionate about and not waste the life they've been given.
"Ignorance is bliss. Everyone can discover a thing to put energy towards, and commiting to something you love will make you feel accomplished," he said. "And in the end that's all that matters — 20 or 30 years from now you'll be at a reunion and you want to be able to tell what you did that you're proud of and what you put your name behind. That can be something big or small, but it's yours, and no one can take that away from you."