Tidal Grounds Coffee: Cup of Gold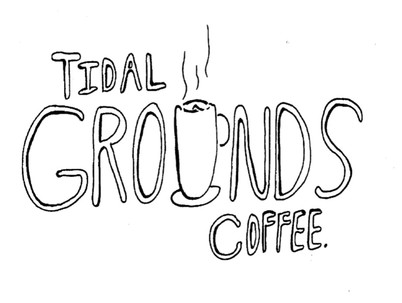 I've spent the vast majority of my life believing that hipsters were vegan, braggy, narcissistic people that had the uncanny ability to make an incredible cup of coffee. I've just recently learned that only one of these things is true.
When I walk into any eclectic cafe, the first thing I notice is the ambience. The ambience of Tidal Grounds is very aesthetically pleasing. It's an eclectic shop with a humble and inviting atmosphere. This is the place where the hipsters are employed.
This small and cozy cafe is dotted with different size chairs and tables, with bold red paint on parts of the walls. Delicate bouquets of yellow flowers sit on almost every table. There are a handful of people staring intently at laptop screens or making conversation.
I shift my attention towards a small counter of widely smiling faces, undoubtedly some of the local hipsters that I mentioned earlier. They had kind faces (surprise!) and patiently helped me with my order. I ordered a medium iced vanilla latte and an apple turnover. It was $9, the latte being the most expensive drink on the menu. The turnover was $3.50.
I barely turned my back towards the cashier when my order was called. I excitedly grabbed the plastic cup and plate the barista handed to me and sat down at a small wooden table in the middle of the room.
The vanilla latte was a pretty tan hue and smelled exactly like a good coffee should — strong and sweet. I gingerly sipped on the sweet nectar and smiled. There was just the right balance of coffee to vanilla and vanilla to milk. The coffee was earthy and the milk refreshing — a perfect pick me up after a long day of school. Everything blended together to create a wonderful mixture and made my tongue sweat with anticipation between each sip. I do not regret spending over $5 on that enticing cup of goodness.
The apple turnover was next. I picked it because it looked so good in its little spot in the glass case. It was folded nicely into a beautiful and fluffy crescent moon shape and sprinkled with large sugar crystals. The pastry was light and flaky and smelled like Grandma's house. Every time I dipped my fork in, a delicious trickle of cinnamon and apple icing came from the inside. It was wonderful and reminded me of Fall. The flavor, the smell– everything flashed pictures of apple trees and flannel shirts into my mind.
My experience at Tidal Grounds was pleasant, and I strongly recommend it to any coffee or eclectic shop lover such as myself. The shop is a must-try for the residents of Mount Pleasant and a wonderful way to support small local business. You'll be pleasantly surprised by the humble coffee wizards that brew there, the nicest hipsters in town.