Varsity Basketball Ranked Second in the State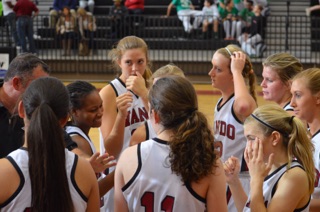 Think of a team who rose from the ashes. Think of a team, that after being known for their inability to play, they rose up after years of rebuilding to hold a team that may be the best in their respective leagues today. What comes to mind? The Cleveland Cavaliers after LeBron's return? The New York Mets after decades of laughable seasons? How about Miami football before Jimmy Johnson?
No, this isn't a professional team.
No, this is not about a superstars return.
This is Wando's Varsity Lady Warrior Basketball. Second in the state after the regular season.
"It's exciting to look at the the team because my freshmen year we didn't make the playoffs, to this year we are second in the state, and it is really exciting to just see how to program has developed throughout all four years that I've been here," Senior Claire McTighe said.
Behind every championship team is good team chemistry. All-stars come and go. People can put up big numbers on the scoreboard. But, if not everyone is involved, there is no chance of winning.
"[Our chemistry] has played into it a lot," McTighe said. "…as we progressed we played a lot better together and we've jelled as a team. And, at the beginning, we were definitely not playing as good as we are now. I think part of that it took a few games for our chemistry to develop and for us to gelled…When we play together as a team, that is when we play our best."
McTighe is not the sole believer in team chemistry. Head Coach Jeff Emory also believes it's a key component in the team's success.
"To me the real key to our team is our team dynamic, our chemistry," Emory said. "We have four really good seniors, Kendall Schweers, Riley Gilller, Claire of course and Ashley Oppold who really led the team. And everybody kind of buys in just like a family, we've had a lot of fun this year, there have been no issues of the court,"
Out of all the players on the team, only one knows what it is like for Wando Varsity Lady Warrior Basketball to not make the postseason. Clare McTighe. Over four years, McTighe has grown from 'The freshmen on varsity' to the star of the court. Averaging 17 points a game (the same as Kobe Bryant's final season). On the topic of McTighe, Emory was only positive,
"She's a special kid, like i've said in the past she's a great student, she's a leader on and off the court," Emory said. "The thing is her maturity level is so much higher than other high school kids that it allows her to grow on her own. I don't have to do a lot with her, she's just a special person."
The Lady Warriors next game is at home, Jan. 24, against Fort Dorchester.