Wando Staff Feature: Michael Beaudry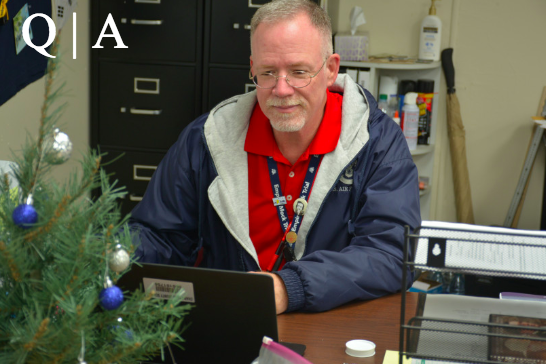 English teacher and Mock Trial Coach Michael Beaudry has been teaching at Wando for nine years, but it had a varied career before he came to Wando.
Q: What's your favorite subject to teach?
A: American Literature. I mean that's pretty much all I'm teaching right now. I love American authors. So as far as my favorite, I like the Transcendentalists, which are like Roe and Emerson, [and] I like the poets Whitman and Dickinson.
Q: What are you focused on when you teach?
A: I'm primarily focused on — do the students get something out of thinking? Can you think? And can you receive ideas and transmit ideas either written or spoken when it comes to the ideas. So many students have gotten to the point where they're so worried about what the teacher wants… and I want to know what they see what they think.
Q: I understand you also [coach] Mock Trial…what is it essentially?
A: Mock trial really is a simulation of the world of litigation, getting into a courtroom and either prosecuting or defending somebody. We've dealt with murders, assault and battery, liability over suicides. We've dealt with liability cases that involve police officers in wrongful shootings We've had a situation in one of our cases where a cop shot a fleeing suspect who was a minority … we're dealing with what's going on in the world. We can see application with what we're looking at.
Q: Why is mock trial important to Wando?
B: Above all other things, this is real world. The public is so quick to judge based off of what they heard on the television. What the television gave us was a 15-second clip instead of the hours and hours and hours of material that my students pored through. So they have an understanding that the world is a bit more complicated than the 15 second verbal clip.
Q: Outside of school, what do you like to do? What are some of your hobbies?
A: Being an English teacher, no surprise I love reading. I put in at least one hour a day of reading and that's on my own time — got nothing to do with grading or anything. But I like to also build models. I do that as way of relaxing, but the models I build are rather intricate, so it'll take me sometimes a year to build these things.
Q: What are these models?
A: Whatever. I've had people ask me to refurbish an old model they had as a child, and I'd restore it back to its original condition. I've people contract me to build boats. I've had people contract me to make a template for a model kit, so some of my work has actually been turned into models that are being sold out in the industries.
Q: What is your philosophy in life?
A: The only thing I really believe people should have is trust in themselves. Yes, the world wants things of us. Yes, we need to make the boss happy, but we really need to trust ourselves and own abilities, and if you do that, you can accomplish all kinds of things even if you're not overly confident. Trust is everything.